Britain's best beaches.
The key to unlocking this country is in its name. Britain is a sea of greatness on a compact piece of land. It's proud castles, soaring cathedrals, distinctive villages, timeless landscapes and endless beaches. Not without reason, this island state with centuries-old traditions is the 7th most visited in the world. Contrary to stereotypes about the eternally gloomy sky, the Foggy Albion welcomes guests. Take a look at the list of Britain's best beaches to see for yourself.
Watergate Bay
Watergate Bay's golden beach is great for walking and sports, as well as being the site of sporting events.
4 Beachcombers Apartments
,
5 Driftwood House
Woolacombe
One of Britain's best beaches is Woolacombe, nestled among the scenic dunes near the resort of the same name in Devon on Bristol Bay.
4 Ocean Lookout – Luxury Woolacombe Beach Apartment with Sea Views
,
4 Sandunes Guesthouse
Blackpool Sands
Blackpool Sands' large and picturesque beach offers the perfect setting for a variety of outdoor activities. Here you can sunbathe, picnic and play sports.
Seven Sisters
Seven Sisters Beach is situated in Seven Sisters Park, one of Britain's most beautiful nature reserves. Its main attraction is the white chalk cliffs. This place is popular not only among locals and tourists, it has repeatedly appeared on the movie screen.
3 Beachy Barn
,
3 Hop Cottage Eastbourne
Porthcairn
Located in a cove between cliffs jutting out into the sea on the south coast of Cornwall, Porthcairn is not far from the small village of the same name.
3 Seascape St. Buryan
,
4 Trendrennen Farm Bed and Breakfast
Rossili
Rossili Beach is located on the shore of Rossili Bay on the southwest side of the Gower Peninsula in County Glamorgan, Wales.
4 Blas Gwyr.
,
4 King's Head Inn.
Portmeor
Portmeor is one of Cornwall's most popular beaches. The soft sand and clear sea are complemented by excellent service, which is why the beach is so loved by locals and tourists alike. Porthmeor beach has been awarded with the "Blue Flag".
Durdle Dor
Durdle Dor is a graceful wild beach in the South of Britain with a rocky arch. This natural wonder was formed on the Jurassic Coast from limestone rocks over many hundreds of years.
3 Ivy Cottage WEST LULWORTH
,
3 Limestone Hotel
Isle of Wight
The Isle of Wight in Cornwall is Britain's most respected resort.
3 Chilton Farm Cottages
,
3 Seven Bed and Breakfast Newport Isle of Wight
Fistral
Fistral is a Britain's favourite surfing destination and is home to Britain's top water-sports competitions. During the warm season Fistral beach is a popular destination.
5 Driftwood House
,
4 Gratton Lodge
Blackpool
Blackpool beach is on the shores of the Irish Sea at the seaside resort of the same name in Lancashire. It's a sandy white beach that stretches along the promenade, illuminated by thousands of lights at night.
5 Boulevard Hotel Blackpool
,
4 FourRooms
Bournemouth
The beaches of Bournemouth are within the boundaries of the town of the same name in the county of Dorset on the English Channel (English Channel). One of the oldest seaside resorts in Britain was founded in the early 19th century, when Esquire Tregonwell built a country house and planted pine trees on a wild stretch of seashore. His acquaintances appreciated the advantages of a quiet life by the sea, and just half a century later Bournemouth was teeming with life.
5 Balincourt
,
4 Cavendish Central Bournemouth
Brighton
Brighton, the most famous beach in Britain, is located in the resort town of the same name in Sussex county, 80 km from London on the coast of the English Channel (English Channel). Brighton won fame by the mid-18th century, when a fashionable metropolitan doctor began to send influential patients with hypochondriacs to the small coastal village for treatment by sea water. The method proved effective, and three decades later the fishing village was in active construction of housing for wealthy patients from London. By George IV the King's Pavilion was erected on the beach, one of the most significant landmarks of modern Brighton.
2 Beachside Apartment Brooklyn
,
2 Best Western Plus Brooklyn Bay Hotel
Cumber Sands
Cumber Sands is the long sandy beach of the village of Cumber in East Sussex. It is the only sand dune system in the county.
4 Let's Unwind Cottages – The Salty Dog & Rock Lobster
,
4 Point Farm B&B
Perranport
Perranport Beach is located on the shores of the small resort of the same name in the county of Cornwall, England.
3 Mellow Cottage Perranporth
,
3 Spiral View
Popular Ratings
Britain's Top 20 Beaches
1001beach helps you navigate in unfamiliar surroundings and find the best UK resorts for an unforgettable vacation. Based on traveler reviews, we've compiled beaches for all tastes and wallets that appeal to a wide audience, from extreme athletes to family campers.
Britain's ten most beautiful beaches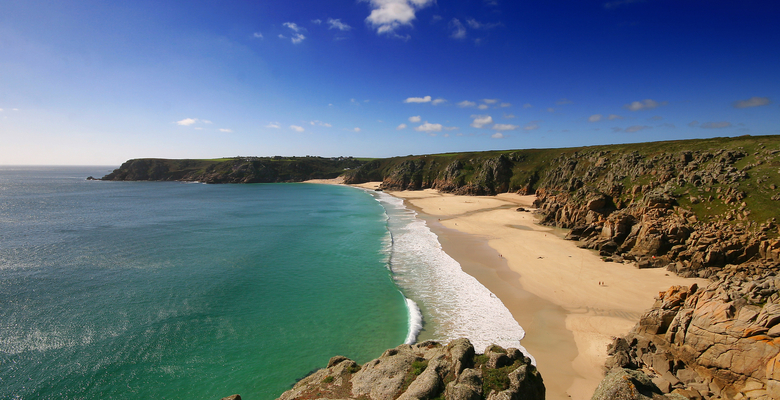 "Kommersant UK presents a selection of the UK's best beaches, where you can walk along the coast, swim, take photos against the waves, watch the sunset and have a good rest. Sandy and rocky, big and secluded, they're waiting for you.
Tenby North Beach, Pembrokeshire, Wales

Tenby North Beach in Pembrokeshire is Money.co.uk's most beautiful beach. Analysts came to this conclusion by looking at all the hashtags on Instagram dedicated to seaside holidays. Residents of Great Britain most often photographed there. Thanks to its popularity in social networks Tenby North Beach was included in the top 10 most beautiful beaches in the world.
Margate Beach, Kent, England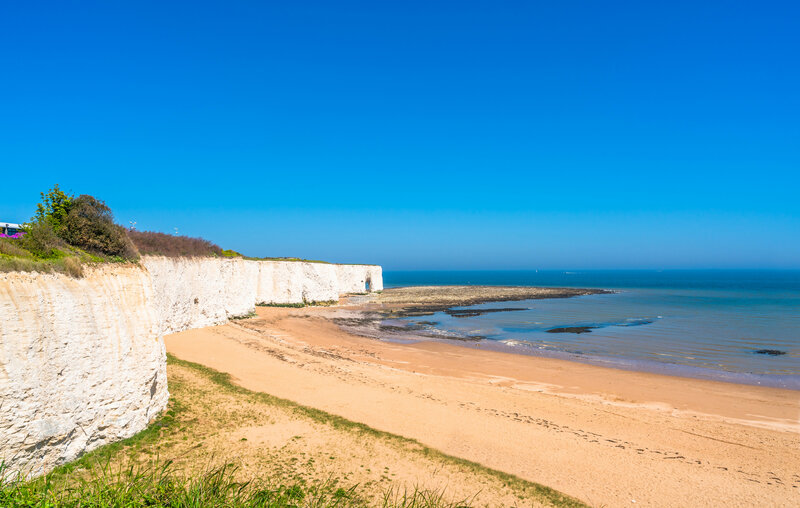 This beach is just an hour away from London. It can be crowded on a beautiful day, but the view from the beach makes up for it.
Durdle Door, Dorset, England

If you've never been to the beach, you've probably seen it on Instagram and other social media. The Durdle Door arch, which is one of England's most famous Jurassic Coast sites on the "UNESCO World Heritage List," makes the beach popular.
Brighton Beach, Brighton, England

No, not the Brighton Beach where it rains, but Brighton City Beach! It's always crowded – the shallow waters are great for kids and the cafes and bars are close by to quench your thirst.
Daymer Beach, Cornwall, England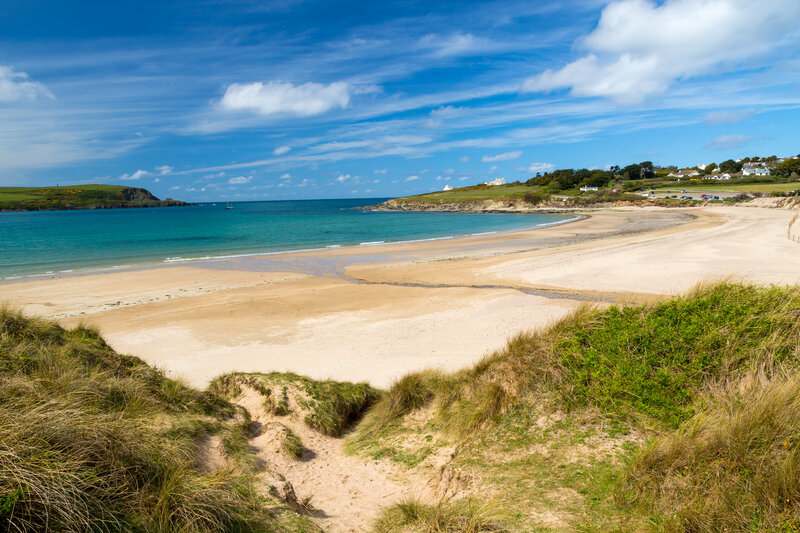 Located in North Cornwall, Daymer Beach is one of the five most beautiful beaches in Britain.
Caswell Bay, Swansea, Wales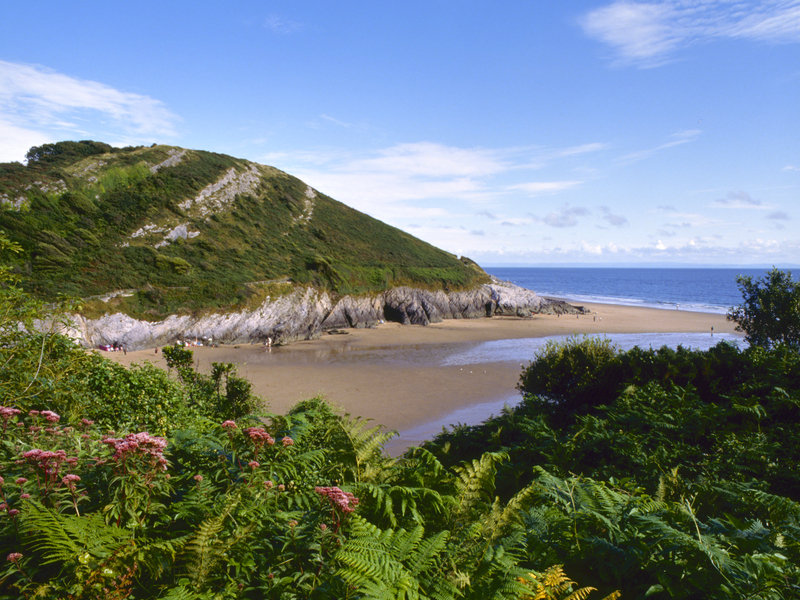 Whether you're an outdoorsman or just want to soak up the waves, Caswell Bay is a beach that both families and surfers will love. The beach area has been Blue Flag awarded several times for its clean waters and beautification.
Pedn Vounder Beach, Cornwall, England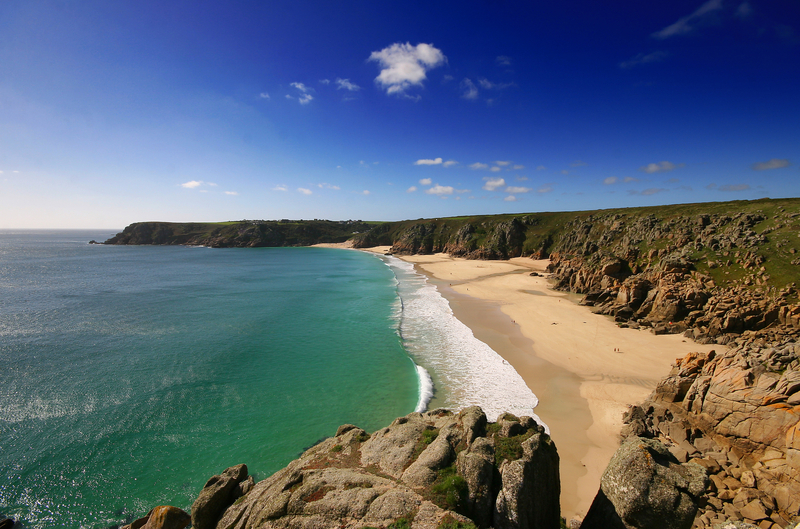 This beach is in a tidal area and you can get there by boat or by walking the coastal path along the cliffs. Interesting, isn't it? It's not recommended to swim far from the beach because of the strong currents.
Achmelvich Beach, Highland, Scotland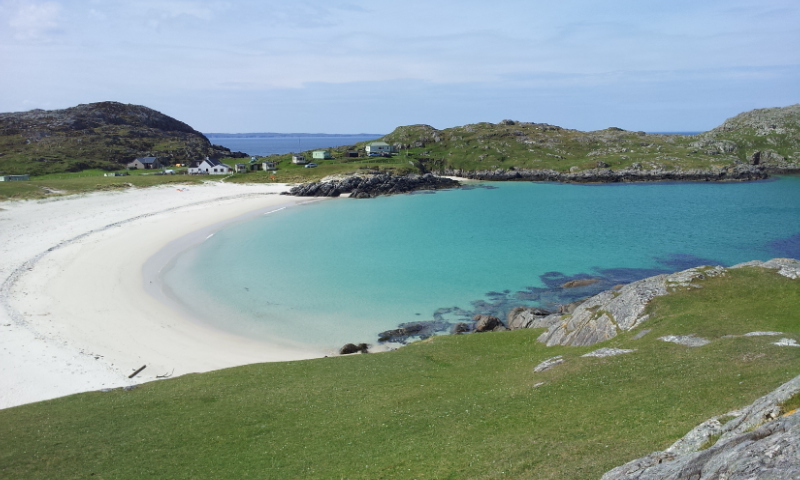 Another blue flag awarded sandy beach in the middle of the Scottish Highlands. Anglers can catch cod, haddock, pollack, saury, and mackerel here, while hikers can explore the surrounding trails for breathtaking views.
Crooklets Beach, Cornwall, England

Crooklets Beach is very popular with surfers and big group gatherings. There are several playgrounds, a skate park, amusement rides and pubs near the beach.
Bigbury-on-Sea Beach, Devon, England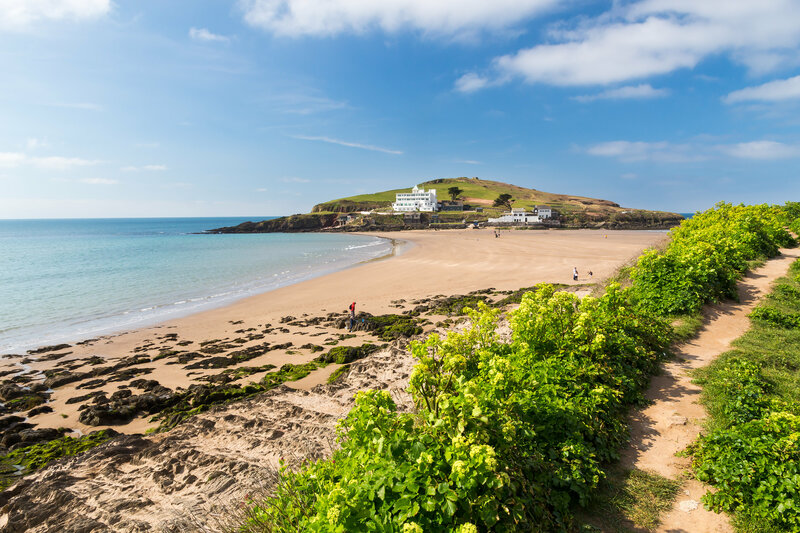 This sandy beach is perfect for families: kids can explore the flora and fauna of South Devon and swim in the shallow waters before taking the ferry to Burgh Island with their parents.