The 10 best fall destinations for romantics
You can complain for hours about tedious rain, harsh winds and long, dark evenings, but fall has a trump card that won't be "beaten" by weeks of inclement weather. Yes, yes, the crimson, copper, gold leaves, so beloved by lyric poets. Romantic people adore this time, going for long walks, passionately taking pictures of colorful landscapes, dedicated poems to them, drawing from life and soak up every cell of the soul of such a short-lived fairy tale. Here are the best autumn destinations for romantics – there are plenty of inspiring landscapes!
Pearls of the Old and New World: fall destinations for romantics
England's Lake District, sung by the poets
England's Lake District (the mountainous region of Cumbria) is known for its irresistible beauty, and in fall it becomes even more stunning and enchanting. With a wealth of crystal lakes surrounded by golden and ruby hills, the region remains an ideal hiking destination. Cumbria is home to vast woodlands (such as Grisdale Park with its green pines and copper beech trees) and magical mountain panoramas. Cosy pubs like the Kirkstone Pass Inn are always welcome, offering a glass of local cider or ale and a chance to relax. Even a downpour won't spoil the experience in this romantic autumnal destination, adding to the grandeur of the scenery.
Prague: Everything is cloaked in a golden mist
Prague, the capital of the Czech Republic, is beautiful at any time of year. But in the autumn it is something special! The crowds disperse and the golden hue seems to be everywhere – reflected in the windows of the gorgeous chateaux, the roofs of Gothic churches and the striking bridges over the river. The cool weather makes lovers cling to each other closer and then drop into one of the cozy restaurants to try some authentic Czech beer. After dark, it's great to stroll under the scattered lantern lights and admire the scenery of the Old Town. Better yet, book a romantic cruise on the Vltava River in a replica of a century-old boat.
Vienna: elegance in copper tones
The Austrian belle Vienna is not only the elegant city of the Old World, capital of opera and the famous waltzes. Elegant cafes with crystal chandeliers and beautiful parks shimmering with bright copper and crimson are equally suitable for romantics. Take a boat ride, taste wine in one of the surrounding vineyards, and explore the legendary Vienna Woods (part of the Eastern Alps). From here (weather permitting) you can admire not only the Austrian capital but also the panorama of the Leopoldsberg, the mountain and the majestic 12th century castle.
Bavaria: castles, Alps and valleys
Bavaria is the most breathtaking scenery in Germany and Europe as a whole, with endless alpine forests and mountain peaks, among which are lost fairy-tale castles and palaces. Of course, Bavaria is another great fall destination for romantics. Just imagine how Swan Castle (Neuschweinstein) looks framed in delicate gold! There's a reason Americans call this German region the "European Vermont" (autumn is gorgeous in Vermont). Bavarian deciduous trees look as if they came out of a painting by Isaak Levitan (and the artist knew a lot about beauty). Autumn is a great time to enjoy horseback riding, hiking in the Alps and endless tastings of local beverages at wine festivals.
Irish Wicklow Park: a fairy tale visited our world
Autumn is the best time to visit Ireland: the sky is especially blue this time of year, there are fewer tourists than in summer, and what mountain views! For a romantic fall trip, the Wicklow National Park is a sure-fire trip for romantics! The fresh mountain air is so "crisp" and cool, and the trees are covered in a golden patina. There are miles and miles of hiking trails in the park – just walk and explore the fantastic scenery! Visit historic sites – such as Glendaloch, one of the most important monasteries on the Emerald Isle, it was founded by St. Kevin in the 15th century. And don't forget the dramatic waterfalls (they've been captured in movies, such as the movie with Mirren and a young Neeson, Excalibur). If you get caught in a storm along the way, you'll always find a pub with a fireplace and excellent beers.
The fantastic Columbia River Gorge: the Oregon/Washington border
Not only in Europe, but America has many charming fall destinations for romantics. See Oregon's unique Columbia River Gorge: a fantastic 80-mile "rift" cuts through the Cascade Mountains to form a natural border between Washington and Oregon. As the leaves of the maples begin to turn their fall colors (an amazing contrast to the evergreen mighty spruces), the scenery here is breathtaking. If you hike along the Columbia River, you'll be rewarded with the beauty of dozens of waterfalls and the bronze and lemon hues of the trees. You can also take a water trip by taking a kayak, boat or canoe.
White Mountains: The Jewel of New Hampshire
The White Mountains are considered the crown jewel of New Hampshire, soaring over pristine lakes and dense forests (the highest peak in the Northeast region reaches 1,920 feet). Countless artists and photographers rush to capture the bright crimson, warm gold, and glistening orange components of the landscape-as if the Firebird had spread its feathers across the slopes! Romantic travelers can take the most comfortable route through the mountains and amazing scenery or ride the aerial streetcar in the Franconia Notch State Park. If you climb to the top of Mount Cannon on a clear day, you'll have a fantastic view of the mountains of four American states and even a slice of Canada.
The Adirondack Mountains: New York State's Natural Wonders
The Adirondack Range in New York State is the largest natural region in the eastern United States with the highest point (1,629 meters), Mount Marcy. The birch, oak, beech, and maple forests on the slopes of the Adirondacks, blazing with crimson, gold, and orange "fires" of leaves, are a must-see at least once in your life! If you spread out on Lake George, you'll have plenty of romantic lodging options, and the most luxurious is the Butterfly Inn, whose rooms boast blazing fireplaces and hot tubs.
Michigan's Upper Peninsula: a promontory between two lakes
Michigan's Upper Peninsula is an impressive "finger," a promontory nestled comfortably between two lakes (Guron and Michigan) and the region's northernmost point. It offers a kaleidoscope of bright reds, golds, oranges, burgundies and emeralds. Autumn hues reign over the hills and mountain ranges, forming incredible tunnels. It's so nice to drive through these places by choosing one of the modest two-lane highways! We recommend visiting Porsupin Mountains State Park, formed over 70 years ago, and admiring the waterfalls (there are about a hundred here, but Bond Falls is gorgeous).
Aspen: a unique Colorado resort
It would be wrong not to include Aspen, Colorado, in the ranking of the most impressive fall destinations for romantics. This mountain town and its surroundings will give you a unique experience! It's worth spending at least a day among the dramatic peaks (rising more than 4,200 feet), and you will never forget this red-gold magic. Aspen has activities for all tastes: hiking, mountain biking, campfire evenings, as well as gourmet dining, a spa with steam massages and hot tubs, and luxury boutiques at the local resort.
10 fabulous fall travel destinations
Autumn is a good time to travel to Russia. There are fewer tourists, airfare prices are reduced, which means you can enjoy a relaxing vacation and save significantly. In addition, October is the peak of golden autumn, so all the natural beauty and even urban attractions are transformed. Here is a list of places to visit in October!
Altai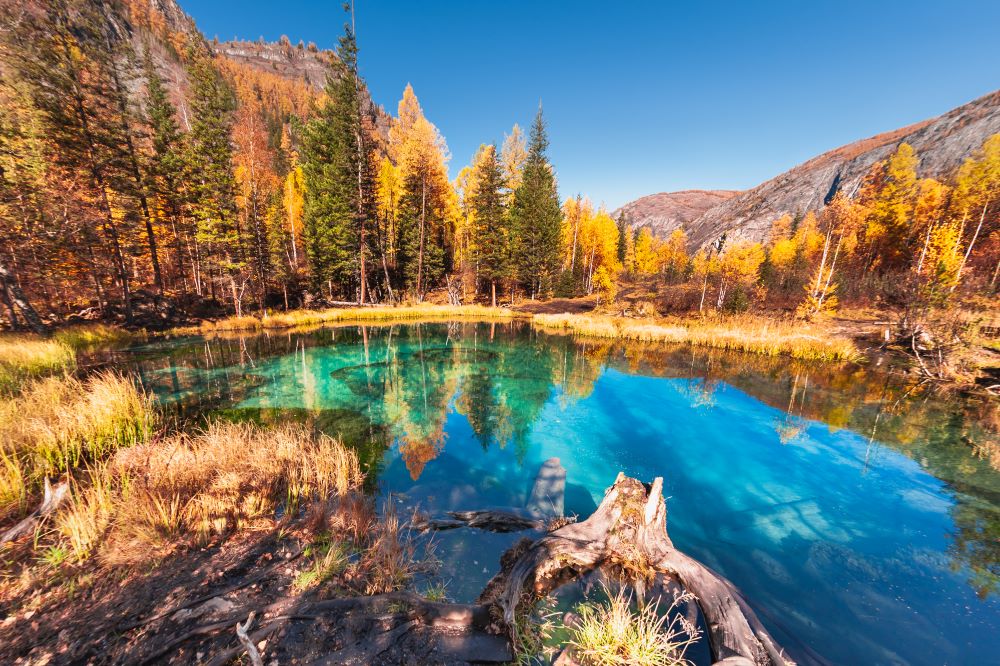 How to get there
The most convenient way to get to Altai is to fly from Moscow to Gorno-Altaisk. A roundtrip from Moscow to Gorno-Altaisk costs from 5000 rubles per person*.
Where to live
Hotel "Igman" in Gorno-Altaisk – from 2600 rubles * per night per person; Homestead "Three Bears" in Chemal – from 1200 rubles * per night per person; Guest House "Green House" on the Teletskoe Lake – from 2500 rubles * per night per person.
What to see
Autumn in the Altai – time insanely beautiful golden landscapes. If you want to admire it to the full, you should take a trip along Chuisky Tract – the road is included in the top 10 most beautiful in the world.
It's comfortable to see the lake of Teletskoye, the largest in the Altai Mountains, rimmed with golden leaves. On your way you'll see several waterfalls and the Love Island. If you get to Ulagansky region, be sure to visit the Geyser Lake of amazing turquoise color.
In the village of Askat craftsmen, you can learn how to play ethnic instruments, and in the mountain center Aktru – to live at an altitude of 2150m, surrounded by ancient glaciers and centuries-old cedars.
Stavropol Territory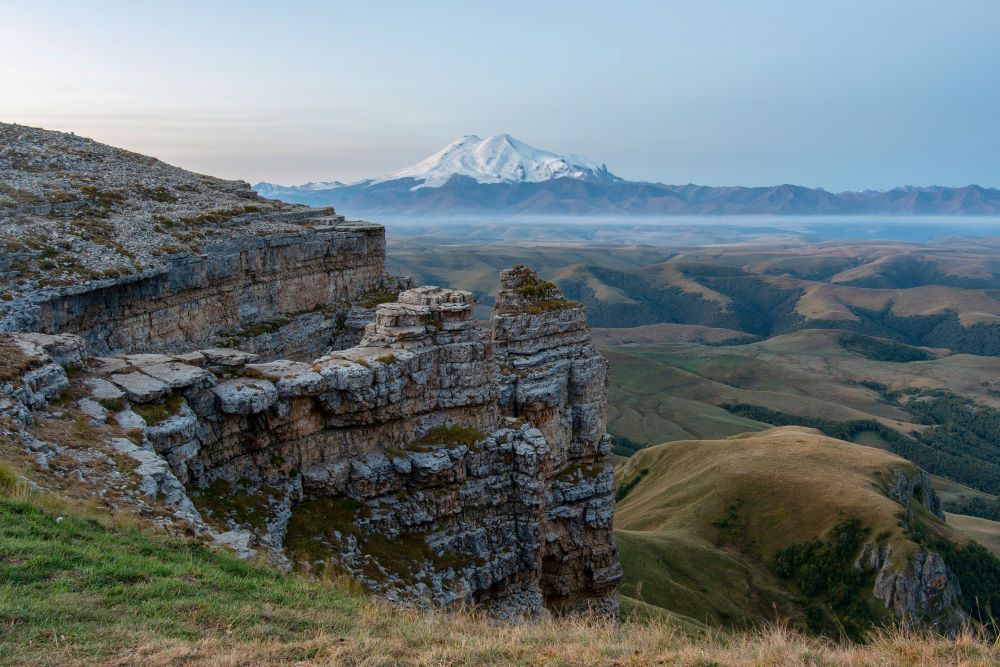 How to get there
It is better to fly to Mineralnye Vody. Round trip ticket from Moscow costs 3200 rubles*. You can get to the resort towns by bus, train or cab.
Where to live
Hotel "Oblaka" in Mineralnye Vody – from 2400 rubles* per night per person; Hotel "Beshtau" in Pyatigorsk – from 4700 rubles* per night per person; Hotel "PAN Inter" in Kislovodsk – from 5500 rubles* per night per person.
What to see
In Stavropol Territory you can combine health and cultural program with trips to the mountains.
In Essentuki visit the largest drinking gallery in Europe, where you can enjoy clean healing water for free. In Pyatigorsk, walk through Lermontov's places, visit the famous Proval Lake and Diana Grotto, climb the Mashuk Mountain and swim in the Shameless Baths.
Obligatory places to visit in Kislovodsk – the narzan gallery, "Honey Waterfalls", a huge resort park, which offers a view of Elbrus. From Kislovodsk you can go on excursions to the mountains. One of the most picturesque routes – plateau Bermamyt, its bizarre columns, asymmetric slopes and gorges look like a movie set. And also in Dzhily-Su tract with mineral springs and waterfalls, to which an incredibly picturesque mountain road leads.
Karelia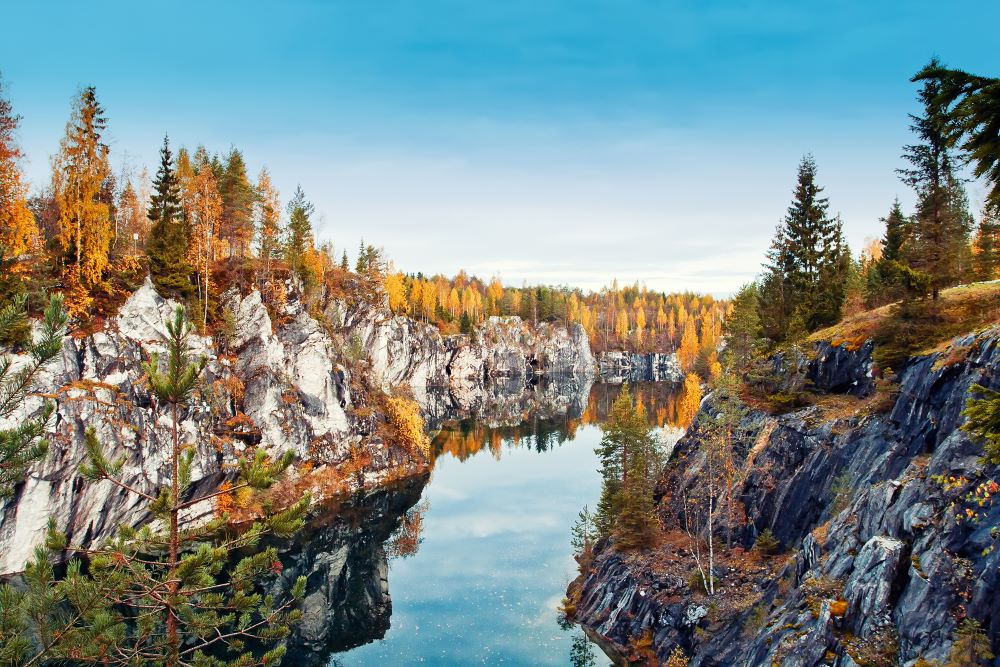 How to get there
The only airport is in Petrozavodsk. Round trip flight from Moscow will cost 3700 rubles* per person.
Where to live
Hotel "Severnaya" in Petrozavodsk – from 2550 rubles* per night per person; Hotel "Velt" in Kalevala – from 2200 rubles* per night per person; Hotel "Tochka on the Map" in Sortavala – from 5900 rubles* per night.
What to see
The marble canyon Ruskeala is a trademark of Karelia, which is especially picturesque surrounded by the autumn Karelian forests in the suburbs of Sortavala.
On the way there you can visit the most beautiful village of Russia – Kinerma, and see the flat waterfalls on the river Tohmajoki, where they shot a part of the film "The Dawns Are Quiet Here". From "Ruskeala" to Sortavala for an hour you can take a retro train with exquisite interiors in the style of XIX-XX centuries.
In Petrozavodsk you can visit the Governor's Park, the embankment of Lake Onega and the block with wooden houses of the XIX century. From the city you can swim to the islands of Kizhi and Valaam.
Health lovers should visit the resort "Marcial Waters" with mud baths and healing springs.
Plyos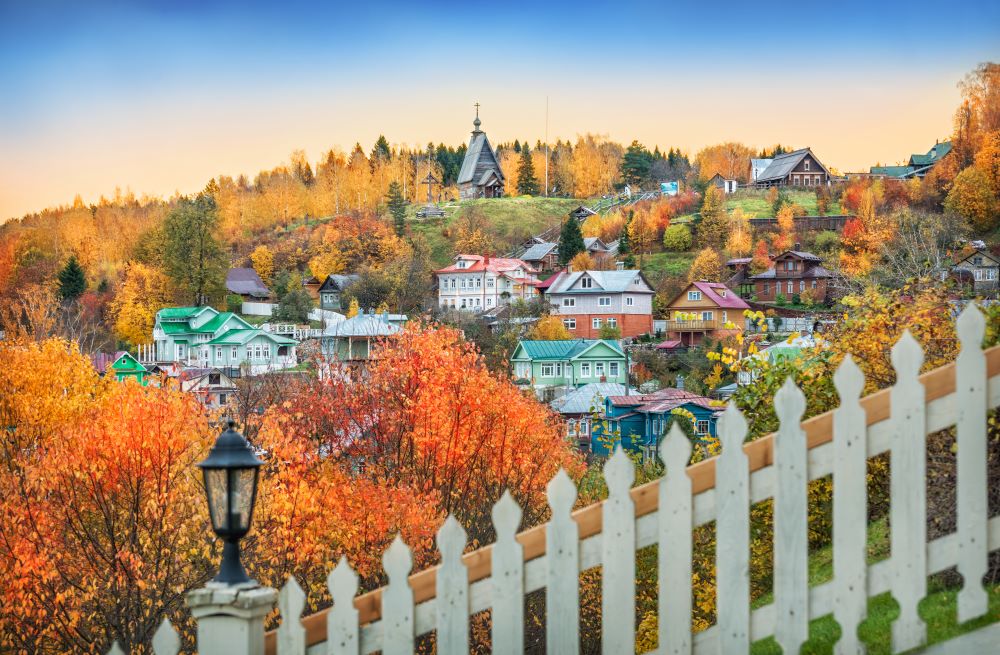 How to get there
To get to the city is easiest by car. Car rental in Moscow on OneTwoTrip will cost 2,500 rubles * per day.
Where to Stay
Guest House "Volga-Volga" – from 3200 rubles * per night per person; Hotel Grand SovaPion – from 9500 rubles * per night per person.
What to see
A small town on the picturesque bank of the Volga in the Ivanovo region attracts fans of the artist Isaac Levitan. The town is decorated with colorful wooden houses, old bell towers and woods.
Here you should visit the house-museum of the artist, the museum "Provincial ART Gallery-M" and take the path of Levitan: climb the wooden steps on the hill, which offers a view of the painting "Over Eternal Rest", which made the city famous. You can also walk along the embankment, where they filmed "Cruel Romance", climb Sobornaya, Voskresenskaya, Pankratka and Levitan hills, walk through the oldest trade rows on Kalashnaya street and enjoy the examples of merchant architecture on the Descent of Freedom Mountain street.
A compulsory point is to eat smoked bream. It is the pride of the locals – almost every citizen has his own smokehouse.
Karachay-Cherkessia
How to get there
It is most convenient to fly to Mineralnye Vody. A round trip ticket from Moscow costs 3,100 rubles per person. One can get to Dombai and Arkhyz by bus or cab.
Where to live
Hotel "Taulu" in Dombai – from 2000 rubles * per night per person; Hotel Chalet ForREST in Arkhyz – from 4500 rubles * per night per person; Hotel "Teberda Skazka" in Teberda – from 1800* rubles * per night per person.
What to see
In autumn, the Caucasus mountains are drowned in autumn colors, and the pleasant coolness is the perfect time for hiking and active trips to see the crystal mountain rivers, high mountain lakes and rushing waterfalls.
The main resorts in Karachay-Cherkessia are Dombay and Arkhyz. They are equipped with cable cars and offer many scenic hiking routes lasting from one to several days.
On the way to Dombai, stop at the fabulously beautiful Ullu-Muruju River. And in Lower Arkhyz, visit the most ancient Christian churches of Russia and drop in on astronomers. There is a reflector radio astrophysical telescope in the observatory of Russian Academy of Sciences, which has been working every night since 1976 when the weather is good. The second telescope is located 20 km from Nizhny Arkhyz on the outskirts of stanitsa Zelenchukskaya. To both telescopes can be accessed on tours.
Another interesting attraction is the lost City of the Sun, an understudied Leso-Kyafarskoe settlement with ancient tombs, dolmens.
Adygeya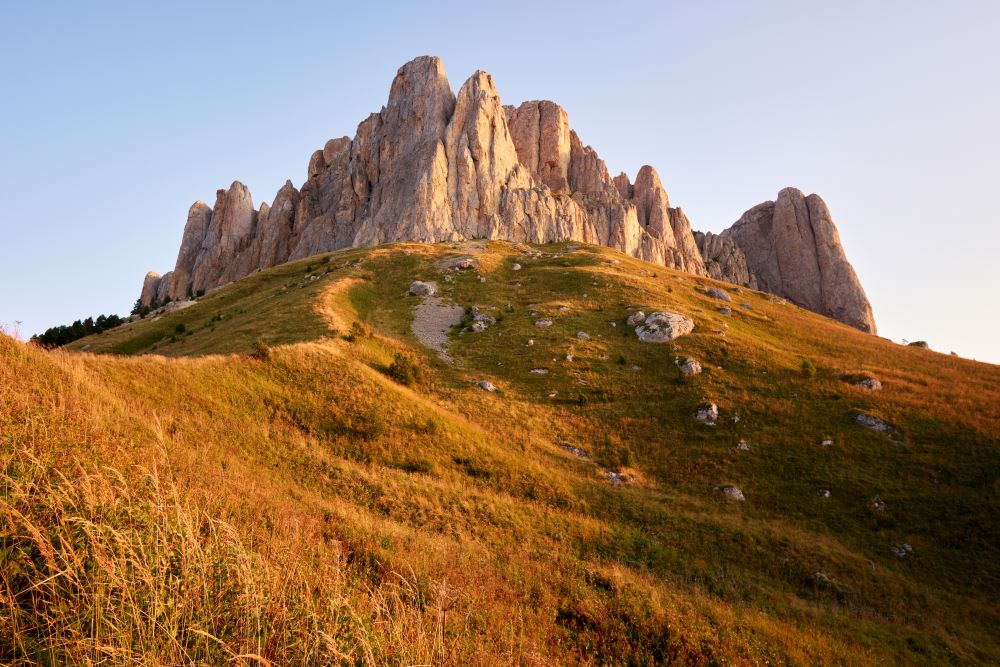 How to get there
The nearest airport is in Krasnodar. Round trip flight from Moscow costs 2800 rubles per person. You may reach the localities of the republic by bus or car in about three hours. Renting a car in Krasnodar on OneTwoTrip costs 3,800 rubles* per day.
Where to live
Inn Ivan Da Marya mini-hotel in Dakhovskaya – from 3000 rubles* per night per person; Guest House "Park Khadzhokh" in Kamennomostskoe – from 5200 rubles* per night per person.
What to see
Adygea – a paradise for lovers of active recreation. Here you can find jeeping, quad biking, rock climbing, cycling or horseback riding, and, of course, go hiking on one of the many mountain trails.
Once in Adygea, be sure to climb the Lagonaki Plateau with its stunning landscapes, relict forests in the river valleys and caves.
If you stay in the village of Kamennomostsky, it is most convenient to go to the waterfalls Rufabgo, Skvoznaya cave and Khadzhokhskaya Gorge, where the canyon of the Belaya River.
Those who love esoterics will appreciate the Bogatyrskaya glade, where are located several hundred dolmens, and in Maykopsk area you can find several thermal springs: for example, "Aqua-Termo" or "Water Riviera".
Sochi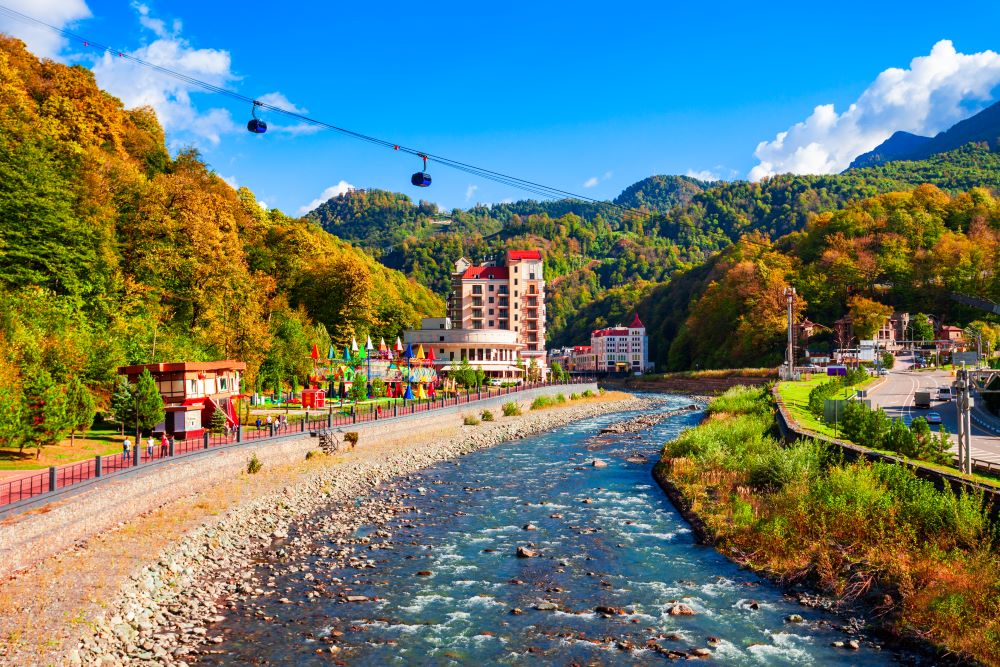 How to get there
The airport is located in Adler, 30 km from Sochi. Round trip flight from Moscow costs on average 3700 rubles* per person.
Where to live
Hotel "Bridge Mountain Krasnaya Polyana" in Esto-Sadka – from 2900 rubles* per night per person; Hotel Ski Inn Hotel Rosa Khutor in Rosa Khutor – from 1600 rubles* per night per person; Hotel Tsvetnoy 5 Hotel in Sochi – from 3500 rubles* per night per person.
What to see
Velvet season is ideal for a walk around the Sochi surroundings: climb the mountain Akhun, walk through the Yew-Samshit Grove and see the canyon Devil's Gate. In the Olympic Park you can ride a bike, go-karting and see the famous singing fountains.
You can fully enjoy the golden fall in the mountains of Krasnaya Polyana. Here are extreme skipark and resorts with cable cars, which will take you to the peak. Active tourists can walk along hiking trails, look into the park of waterfalls "Mendelikha", take a ride on a zipline.
Fans of architecture and history will enjoy the My Russia ethno-complex, which has 11 thematic buildings, illustrating the history, life and entertainment of different peoples of the country.
Kola Peninsula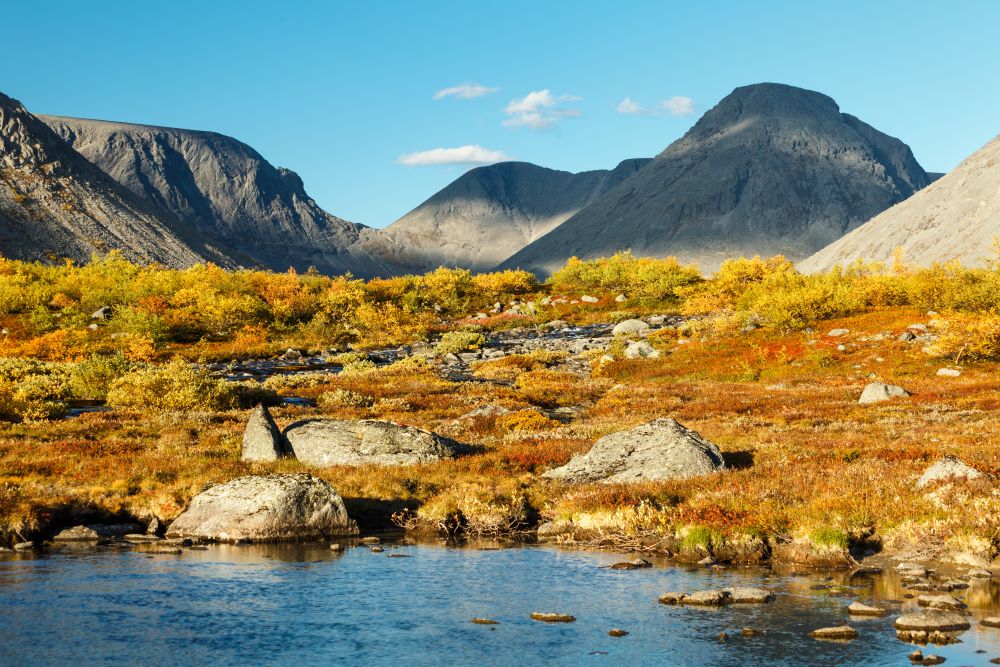 How to get there
The best way to get from Moscow is to fly to Murmansk airport. Round trip flight will cost about 3300 rubles* per person.
Where to live
Hotel "Tundra" in Murmansk – from 1800 rubles* per night per person; Hotel "Mountain Valley" in Kirovsk – from 2300 rubles* per night per person; Hotel Ametist Hotel in Apatity – from 1400 rubles* per night per person.
What to see
Travellers will enjoy the endless expanses of the North, icy breath of the Arctic, colorful tundra, rocks, clear lakes and fast rivers. If you are lucky, you can already catch the northern lights.
The most popular fall route is a few days on the Rybachie Peninsula. Here you can see the mountain range Musta-Tunturi, a waterfall on the river Titovka, defense lines of World War II, "Red Rocks Garden", the ancient Saami temple, picturesque capes and bays.
In Teriberka village there are sceneries of the film "Leviathan", waterfalls and graveyard of ships. There is also an unusual beach with huge perfectly round boulders, which locals have dubbed "dinosaur eggs".
Another place must-see is Seidozero – the most famous lake of the peninsula, it is believed that the ancient mythical civilization of Hyperborea was hidden under its waters.
Kamchatka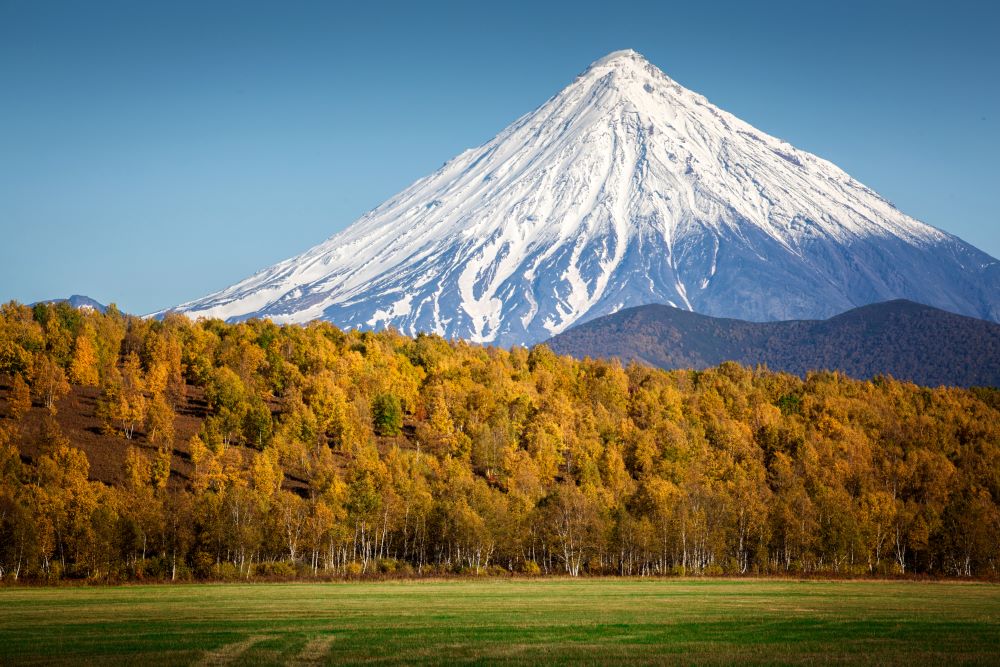 How to get there
The flight from Moscow to Petropavlovsk-Kamchatsky and back will cost 22,000 rubles* per person.
Where to live
Hotel "Avacha" in Petropavlovsk-Kamchatsky – from 4300 rubles* per night per person; Holiday Camp "Solnechnaya" in Paratunka – from 3700 rubles* per night per person.
What to see
Tickets to Kamchatka are cheaper in autumn than in summer, and the choice of activities is still huge: visiting volcanoes, geysers, healing lakes and thermal springs, surfing in the ocean.
You can go hiking on a volcano on Avacha Sopka – climbing does not require special training, on the way you will meet local gophers – eurywakes. You can see the ocean and unusual black volcanic sand on Khalaktyrsky beach. There are natural and artificial thermal pools in Paratunka village.
Make a boat trip and enjoy seafood delicacies on the way to the island of Starichkov and the Russkaya Bay, if you are lucky, you will meet whales and killer whales.
Vladivostok
How to get there
The fastest way to get to Vladivostok from Moscow is by plane. Round trip flight from Moscow will cost 22,100 rubles* per person.
Where to live
Hotel Lido Central hotel – from 4400 rubles* per night per person; Eagle House Inn – from 2600 rubles* per night per person.
What to see
October is a nice time with warm, sunny weather. This is the right time to visit the islands and the protected areas of Primorye, art quarters and contemporary art galleries.
The main attractions of the city are the Golden and Russian bridges, the oldest Tokarevsky lighthouse, the Eagle's Nest hill with a funicular and a viewing platform, and the Millionka tourist area.
There is a lot to do in Vladivostok's suburbs, too. Go to the seaside safari park, to the Russky, Popov and Ricord Islands. In Call of the Tiger National Park, you will be greeted by carved cliffs and ledges, mighty trees over 400 years old, and crystal rivers, this park is often referred to as the "coastal Yellowstone".